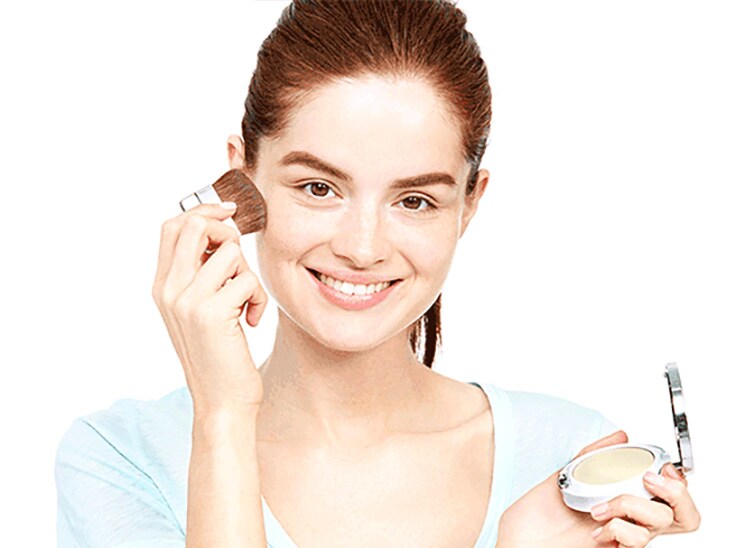 3 steps to reduce redness.
In the red? If you're one of the millions of people who suffer from persistent skin redness, then we've got you. We're like a skin care Trust Fall. And whether your trigger is allergies, rosacea, or hyper-sensitivity, these three steps—which include tips on dermatologist-developed products—can make life a whole lot rosier...no wait, we didn't mean it like that. Bye-bye, blotchiness.
Step One: Cleanse very gently.
Skin that frequently blushes and flushes tends to be fragile. Even your most basic skin care steps—in this case, cleansing—should be as gentle and comforting as possible. Massage a mild face wash like
Redness Solutions Soothing Cleanser with Probiotic Technology
into your skin, tissue off or rinse with lukewarm water, and pat dry with a clean towel. Enriched with emollients such as squalene and glycerin, this gentle cleanser offers frictionless application to minimize any chance of reaction. And remember: avoid fragrance in your cleanser, since it's one of the most common skin irritants. Even though you rinse it off, your skin will still benefit from the ingredients.
Step Two: Calm and soothe with moisture.
Choose a lotion designed specifically for overactive skin. The right blend of soothing ingredients—look for white tea and algae—should immediately give your skin some relief and also improve its strength and reactivity over time. Warm some between your hands, and lightly press it in—first onto cheeks, then moving outward and around chin, forehead, and neck. The pale green color of
Redness Solutions Daily Relief Cream with Probiotic Technology
instantly makes ruddy skin look less flushed and more even.
Step Three: Hello yellow. Goodbye red.
Yellow face powder visually cancels out redness but is sheer on your skin. Start with a light application of
Redness Solutions Instant Relief Mineral Pressed Powder with Probiotic Technology
all over your face and neck, and then add more to red areas. This skin care treated powder is infused with soothing botanicals to comfort skin. Use a puff to apply the powder, which is the type of applicator least likely to aggravate your skin. Keep the powder on-hand for touch-ups…and peace of mind.