If you ever needed confirmation that a neutral palette can be modern, chic and far from boring, scroll through London-based blogger Lydia Millen's Instagram feed. With an innate knack for nailing model-off-duty style, Lydia set up her blog, LydiaEliseMillen, six years ago so that followers could shop her wardrobe of crisp white shirts, tailored blazers and off-the-shoulder dresses, and channel her effortlessly glowing beauty looks. Her site is now one of London's most revered by like-minded lovers of streamlined style. "It started with a lot of fashion posts, and it has evolved to include fitness tips, travel inspiration and, of course, beauty," she says.
Lydia's signature makeup look: Luminous skin, nude lips and black flicked liner. "I tend to avoid bright lipstick because my lips are naturally full and a bold lip shade can be too overwhelming," she says. "I prefer nude lipsticks and then I focus on playing up my eyes. I love everything lashes!"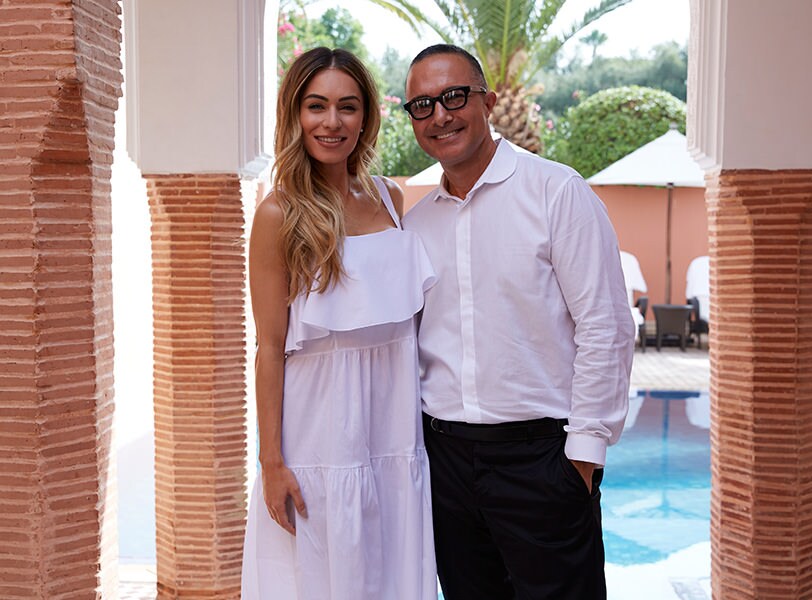 We asked celebrity makeup artist and Clinique Colour Pro Matin Maulawizada to teach Lydia some lash-enhancing tips in the 100°F heat of Marrakech—because if her lashes can look great there, they're guaranteed to look great anywhere. Read on for Matin's best tips to get lashes that are high on drama, low on effort.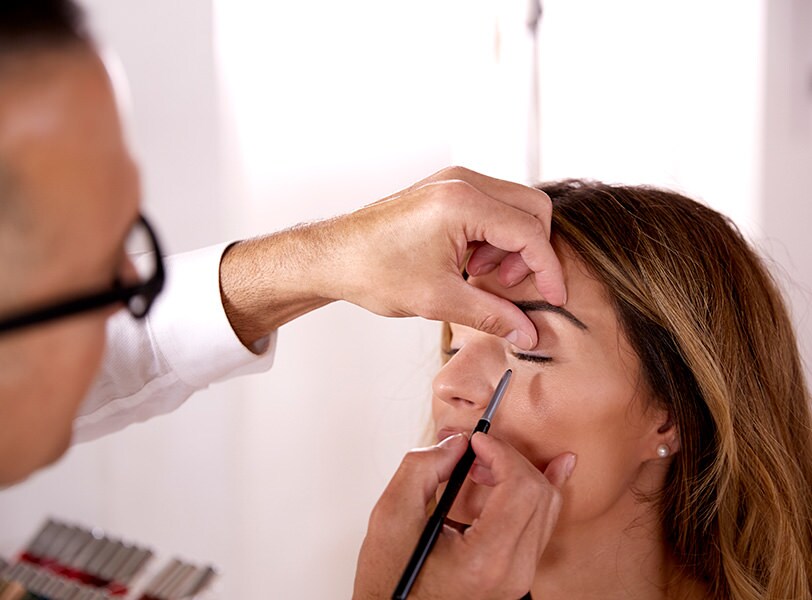 First, connect the dots.
"An easy way to make your lashes look thicker is to use a sharpened black eyeliner to place little dots along your lashline, right at the roots," says Matin. His pick: High Impact Custom Black Kajal in Blackened Black, a dense, matte black with instant impact.
"Keep going until you fill in all the gaps. That way, even before you've applied mascara, you've created the appearance of a thick, full lashline," explains Matin. "Plus, dotting on your liner is much easier than trying to draw a straight line."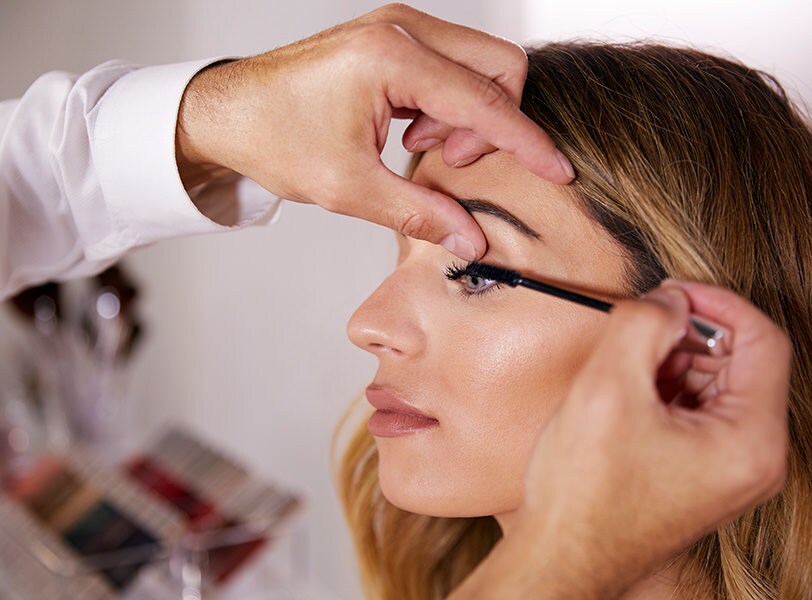 Style your lashes with a customizable mascara.
Matin wanted to create a full top lash with lighter lashes on bottom, so he used Lash Power Flutter-to-Full Mascara because you can control the amount of mascara deposited on the brush with a simple twist of the barrel. "You can go natural and fluttery or dial it all the way up for dramatic definition. It's genius for day-to-night lashes," he says.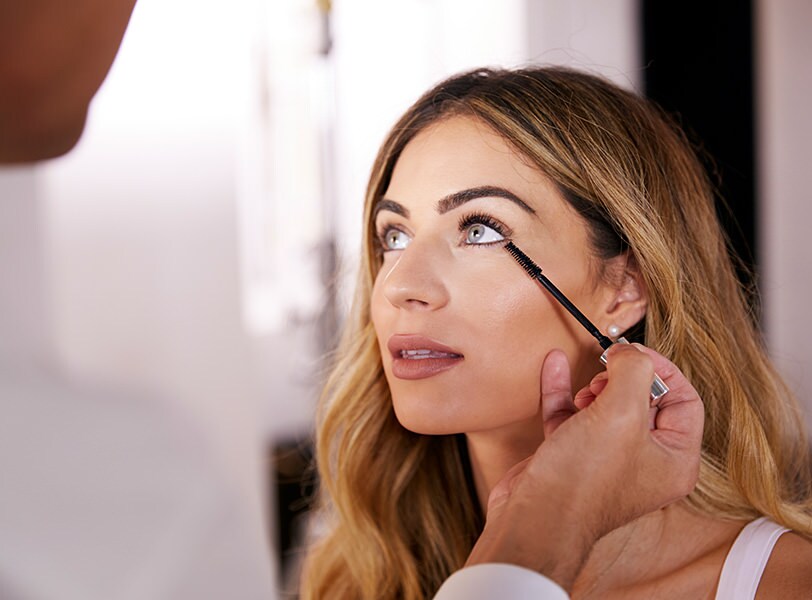 Matin used the most dramatic setting for Lydia's top lashes, wiggling the brush right into the roots to make sure the majority of product was deposited there—a key tip to get the most volume out of any mascara. Next, he turned the dial to the lightest setting for Lydia's bottom lashes. "It keeps the application delicate," he explains. This turns out to be a game changer for Lydia. "People always ask me why I don't wear mascara on my bottom lashes," she says. "I find that most formulas are too heavy because my lashes are naturally quite long, but this is exactly how I want my bottom lashes to look."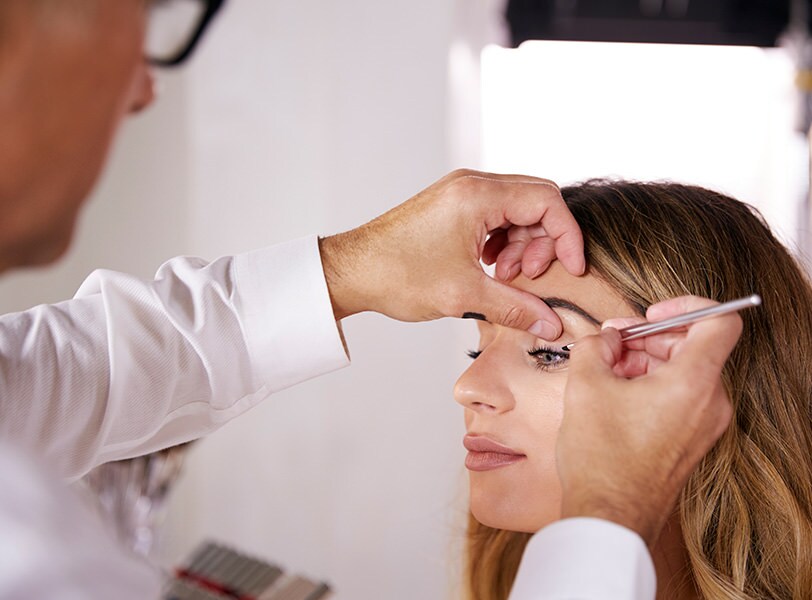 To make your eyes pop, try a blackened blue liner.
"To take the look to the next level, I'm going to add a soft, smoky, dark blue liner," says Matin. He used High Impact Custom Black Kajal in Blackened Blue, a deep navy, which makes Lydia's blue eyes even more piercing. He drew the pencil along Lydia's top lashes, smudging upwards at the outer corners. "You can build the intensity, but keeping it casual and undone is perfect for daytime—you get definition without the harshness of a dense line." This proves to be another beauty revelation. "I've never worn colored eyeliner before," says Lydia, "but I love this look. It's no makeup makeup, exactly what I go for." And she won't have to worry about having a mascara meltdown since Matin used long-wearing products that can stand up to the Moroccan heat. "Lash Power Flutter-to-Full Mascara is perfect for hot weather as it can really withstand sweat and humidity," he says. High Impact Custom Black Kajal liners are similarly long-wearing. "Once they're on, they're on," says Matin.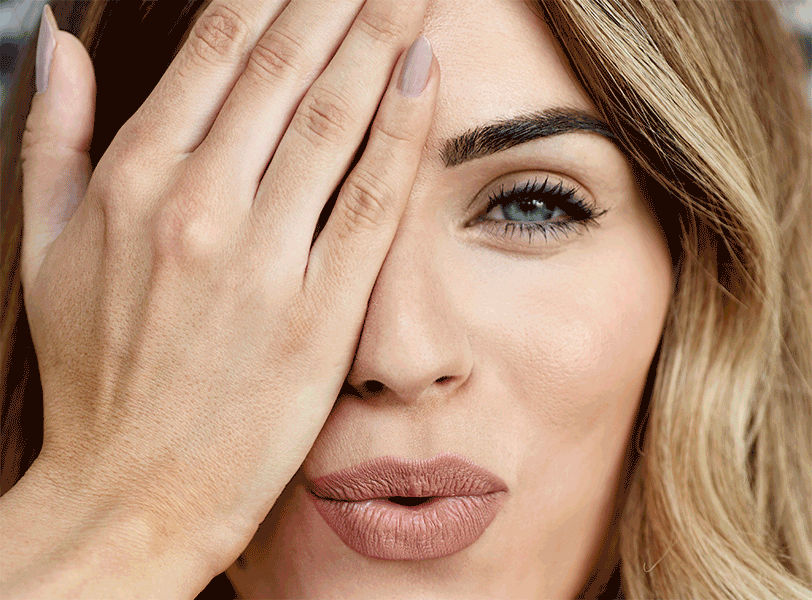 Complete the look with neutral, skin-enhancing shades.
To finish Lydia's look, Matin applied Pop Matte Lip Colour + Primer in Blushing Pop, a creamy nude with a built-in primer that keeps the color vivid (and comfortable) all day. Matin swiped the lipstick onto Lydia's lips straight from the bullet then dabbed some extra color in the center for a pretty, pouty finish.