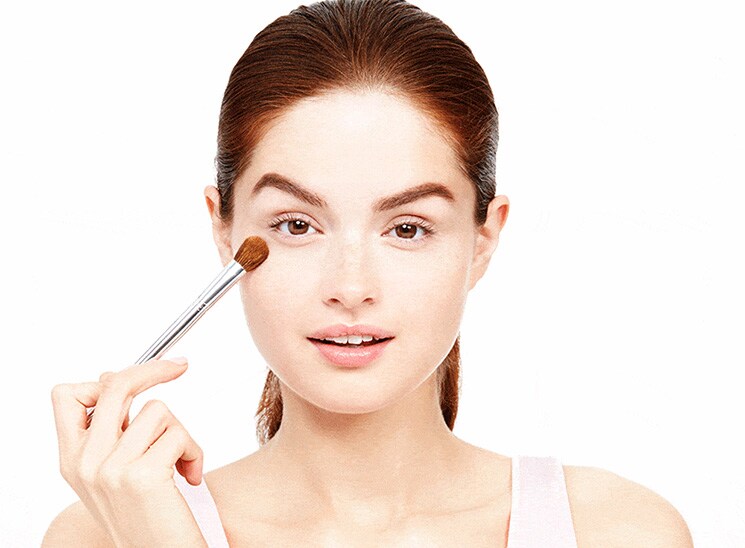 3 steps to conceal dark undereye circles.
Feel like your undereye circles are relentless? Join the club. Neutralizing them can seem like a never-ending cycle. Like you're going in a…circle? (Wait a minute…) You deserve reliably bright eyes every day. Try this three-pronged approach to get them.
Step One: Gently pat on eye cream.
The skin beneath your eyes is the thinnest skin on your entire body. This means that blood vessels can peep through and seemingly cast a dark shadow under your eyes, even when you're not tired or run down. Frustrating, right? The first course of action is to use an eye cream that plumps and strengthens your skin, making it more opaque, and hence less see-through.
Clinique All About Eyes Rich
contains sodium hyaluronate and barrier-strengthening lipids to plump and strengthen thin skin. It de-puffs and calms with moisture and optical diffusers scatter light to brighten the area. Use your fingertips to lightly tap it along your orbital bone, from outer to inner corners.
Step Two: Double-conceal.
It takes two to make things go right—and that includes concealing undereye circles. First, dab a creamy concealer just under the inner corner of your eye (which is typically the darkest area), then use the pads of your fingers to press and blend the concealer into your skin in a rolling motion. Next, lightly dust translucent powder over the concealer to help it stay put all day long. An amazingly effective combo is
Beyond Perfecting Foundation + Concealer
and
Blended Face Powder in Invisible Blend
.
Step Three: Distract, distract, distract.
Well-planned eye makeup will draw people's eyes upward, away from the circles under your eyes. Strong, bold brows, eyeliner along the upper lash line, shimmery shadow, and major lashes on top lashes can only detract focus away from your circles.
Just Browsing Brush-On Styling Mousse
,
Clinique Skinny Stick
, and
High Impact Mascara
will all work in your favor.