Fresh from the Marimekko Spring/Summer 2019 presentation at Paris Fashion Week, comes this gorgeous, glowing makeup look you can rock right this minute. "The collection was inspired by the idea of boldly expressing your personality. It paired modern silhouettes with some of Marimekko's iconic patterns—the perfect mix of flair and function," says Taru Lahti, Head of Design & Product Development at Marimekko. "For the makeup look, we also wanted to play up individuality, while keeping the overall effect very natural," says Clinique Colour Pro Florrie White.
"It was all about glowing skin, a strong brow, and the perfect nude lip, which we tailored to each girl's skin tone," she says.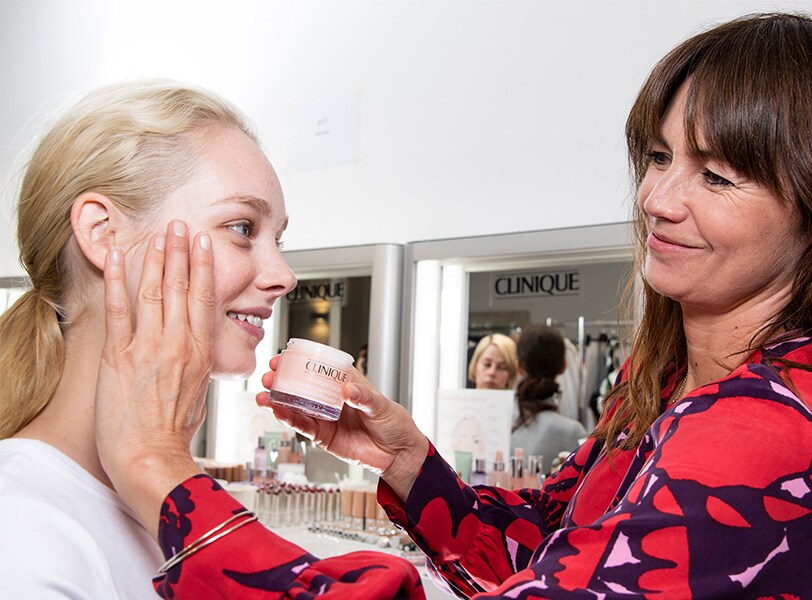 Step 1: Prep and plump skin.
If there's one thing Florrie is obsessed with, it's clean, glowing skin. "I've always said that if you look after your skin, you'll need less concealer and foundation. Radiant, healthy skin is the best starting point," says Florrie. Always in her kit: Moisture Surge 72-Hour Auto-Replenishing Hydrator. The lightweight gel absorbs instantly and leaves a subtle dewy glow. "I also like to give the skin a light facial massage to get the blood circulating. This helps get that glow going too," she says. And don't forget lips. Florrie applied Repairwear Lip Treatment to deeply hydrate and prep for lipstick application.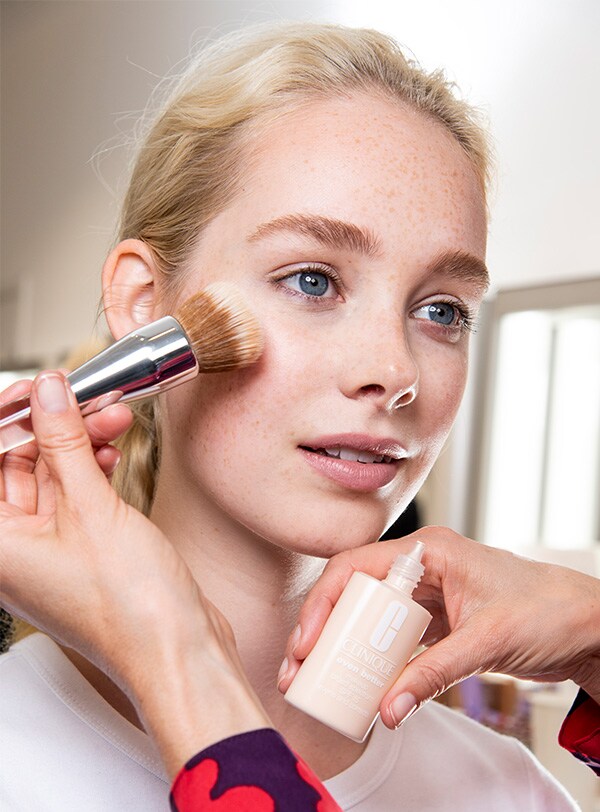 Step 2: Even out skin tone.
"The goal is to just even out the complexion, while still seeing your real skin, as opposed to masking it completely," explains Florrie. To do this, she spot applied Even Better Makeup SPF 15, a blendable, buildable formula with a natural finish, only where needed, mostly around the nose and chin. "Dab it on, then use a buff brush to blend outward, creating a sheer veil of coverage that lets the natural texture of the skin—and those freckles!—shine through," says Florrie.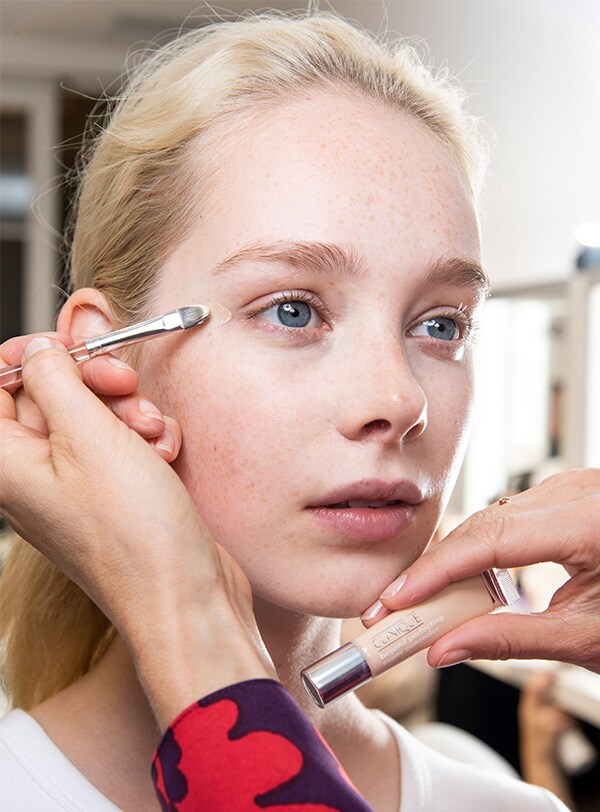 Step 3: Brighten up eyes.
To conceal any darkness around the eyes, Florrie used Beyond Perfecting Super Concealer Camouflage + 24-Hour Wear. "This is my favorite concealer in the world," says Florrie. "That's a sweeping statement, but true!" Her technique: Use a concealer brush to stipple it into the inner corners and anywhere under your eyes where there are shadows. Let the concealer set for a few minutes, then use your ring finger to tap (not rub) it into the skin. "This gives you the best coverage where you need it the most, and the warmth of your fingers helps it melt into your skin," she says.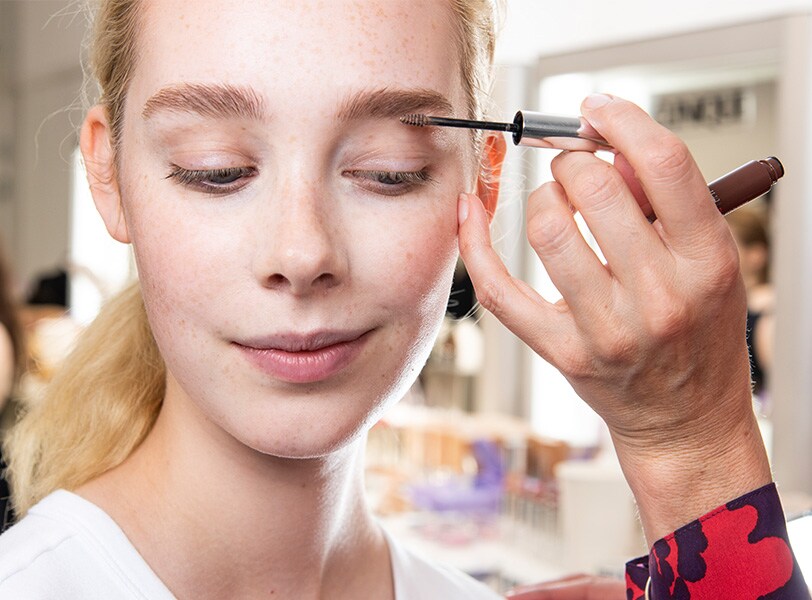 Step 4: Tease up and tidy brows.
For natural-but-noticeable brows, Florrie used Just Browsing Brush-On Styling Mousse. First she brushed the precision micro-wand up through the brows, teasing them up to boost volume and fill in bare areas. Next, she groomed them into place by sweeping the wand horizontally through the brows.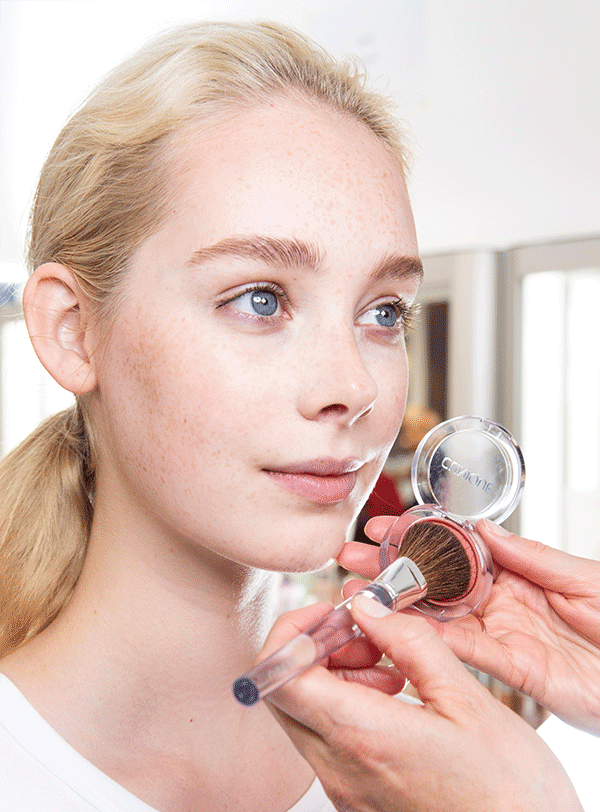 Step 5: Give cheeks a fresh flush.
Florrie lightly swept Cheek Pop in Fig Pop, from apples back to temples, in one direction—not back and forth. Tip: If you go a little overboard and apply too much blush, tone down the color intensity by dabbing some Moisture Surge over it. Bonus: It also acts as a dewy highlighter on your cheek bones.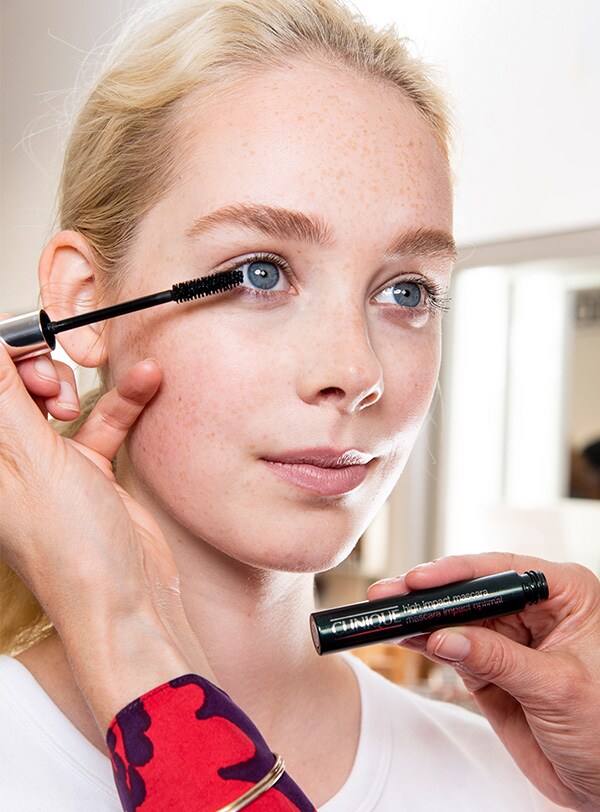 Step 6: Subtly enhance lashes.
To define lashes, Florrie used High Impact Mascara. While looking down, she wiggled the wand into the roots of the lashes to darken the lash line, but didn't pull it all the way through to the tips. "This creates the illusion of wider, more defined eyes, without looking like you're noticeably wearing mascara," says Florrie. Then she bounced the wand against the lower lashes to lightly coat them in mascara.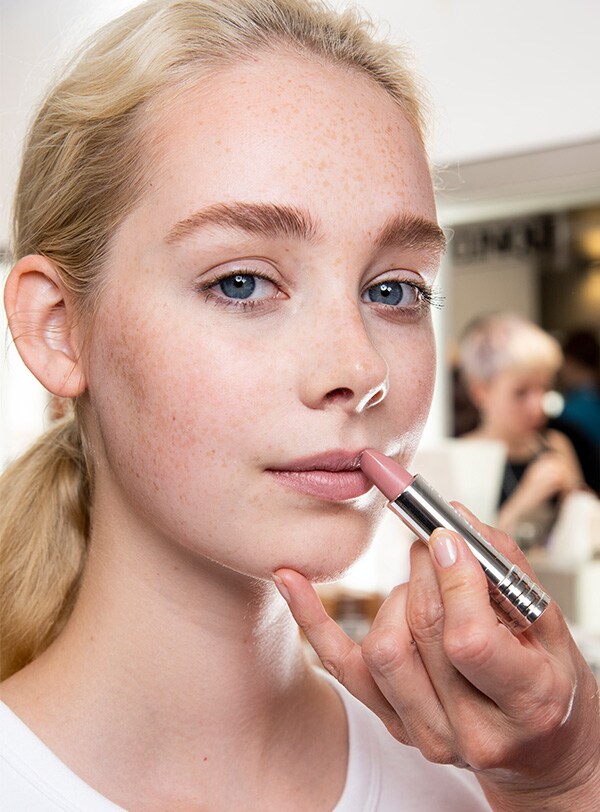 Step 7: Pick a nude that works for you.
"They key to getting the nude lip right is all about choosing a shade that's close to your natural lip color, so it enhances your lips and complements your complexion," says Florrie. She used Dramatically Different Lipstick Shaping Lip Colour, which has a precision tip that makes it easy to define the lip line, no lip liner required. It also has a hydrating core that's packed with nourishing antioxidants and vitamin E to keep lips soft, smooth and plumped with hydration. "I love this lipstick because it has the color payoff of a lipstick, but feels like a lip balm when you're wearing it," says Florrie.