From doing double duty as skincare serum and natural-looking foundation to getting ready for Zoom calls, Clinique Global Brand Ambassador and award-winning actress Emilia Clarke shares why our new Even Better Clinical Foundation Serum is now her daily essential.

What do you like about Even Better Clinical Serum Foundation?
"Lately I've been low maintenance with my beauty routine. I love when a product works overtime, which means less steps for me every morning or before a Zoom video call. Even Better Clinical Serum Foundation acts like skincare by hydrating, smoothing and reducing the look of dark spots. You don't even need to worry about your Zoom lighting..."

What was your first impression of Even Better Clinical Serum Foundation?
"I was amazed! My job requires wearing plenty of makeup while filming on set, so on my days off, I gravitate towards a no-makeup makeup look. I want a foundation that has enough coverage to fake a full night of sleep, but lightweight enough to feel like I'm not wearing makeup. I also loved how the foundation made my bare skin look even better."

How do you prefer to apply foundation?
"I apply Even Better Clinical Serum Foundation with a Clinique Buff Brush. I prefer a brush so you can build the coverage you desire, plus, a brush prevents me from accidentally fingerpainting foundation all over my outfit, which is often inevitable…"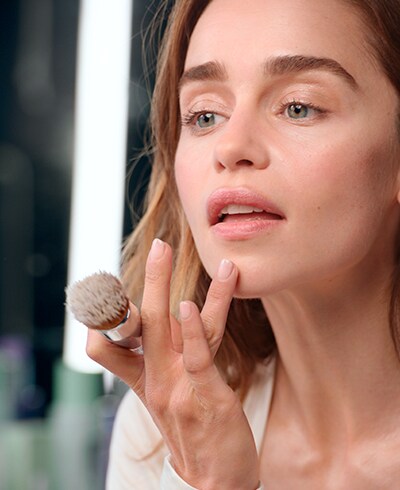 What is the best foundation tip you received while on set?
"A foundation tip I learned while turned to Instagram Lives the past few months is to apply foundation first, then concealer. This allows the foundation to set, and then when you apply concealer, it stays on the dedicated areas you want to conceal, such as under eyes and troubled areas. I like to use the Even Better™ All-Over Concealer + Eraser with the build-in sponge blender. Couldn't be easier!"

What is the #1 foundation faux pas?
"The biggest foundation faux pas is not blending properly. Blend past your jawline and neckline. See every photo of me as a teenager as proof of why this is not a good look!"