These fresh bridal beauty tips can make the planning easier, your wedding day flawless, and those forever photos? Breathtaking. Yes, there's a lot to consider. So for now, let's focus on the makeup. You've got this.
1. Pick a day for color play. Arrive at your first makeup consultation armed with magazine tear sheets (or a Pinterest board!) of your dream bridal beauty look. But also be open to suggestions. A pro can help you look like the best version of yourself…with more objectivity than you could possibly have. And don't forget to tell him/her everything about your big day: outdoors or inside? A lot of candlelight? Black & white photography, color, or both?
2. Pick a color family, and stick to it. In person and in wedding photos, a peachy blush with berry lipstick, for example, can come across as scattered, because it subtly disrupts the balance of your face. A consistent color story doesn't need to be monochromatic, but your eye, cheek, and lip colors should have the same undertones.
3. The kiss? Classic. Lip color can photograph unpredictably (crazy-glossy, disappears, etc.). To avoid seeing yourself years from now with the makeup equivalent of shoulder pads, think timeless. Moisturizing, long-wearing lipstick with subtle sheen is a no-fail option that won't stick to your veil—or your betrothed. Four really pretty options are Long Last Lipstick in Will You, I Do, Honeymoon, and Just Married.
4. For bronzer and subtle contouring, matte does more. To add natural-looking, photogenic definition, use a sheer cream foundation stick in one shade deeper than your skin tone. (Chubby in the Nude in Curviest Clove is universally flattering, thanks to its red—not orangey—undertones.) The Chubby Stick Sculpting Contour is also a great option. The lack of shimmer is key. Buff the foundation on with a bronzing brush—just a touch underneath your cheekbones, along the center of your forehead, the bridge of your nose, and under your chin.
5. Bright idea: simple highlighting. Nervous perspiration and camera flashes do not like shimmer—at all. So, to highlight your features, sparingly use foundation or concealer in a shade just slightly lighter than your skin tone. Dab it on the arch of your brow bone only (not all the way across) and on the inner corners of your eyes, then blend, blend, blend. You can also draw a downward-pointing triangle beneath your eyes to brighten up that area.
6. More top eyeliner! A sleek, dark line along your upper lashes is a super-easy way to add sophistication, draw attention to your eyes, lift your entire face, distract from under-eye shadows, and make lashes look lush. Line with eyeliner pencil first, and then trace the line with liquid liner. And then re-trace. Pretty Easy Liquid Eyelining Pen has intense color and excellent staying power.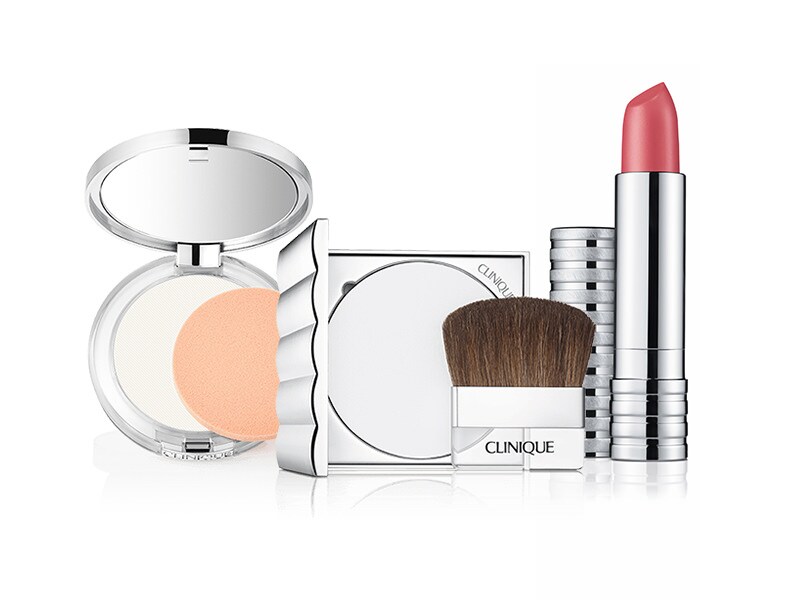 7. Shining moments, not shining skin. The number one must-have for your wedding day handbag is not lipstick—it's blotting powder. Make sure you periodically take a minute to touch up your skin. Blotting powder, like in the Forevermore Compact will calm down a happy, over-excited complexion without a trace. In other words, flawless can be pretty easy.
8. Groom the groom. It's all in the brows: simply brush them. You (or someone else, if you're superstitious) can do it for him with a cleaned-off spoolie from your brow mousse. Should you tell him it may have a trace of makeup on it? That's your call.
9. Play favorites with your bridesmaids. Every bridesmaid should bring along her most-loved lip color. Your makeup artist can use it as a jumping-off point for how each girl feels comfortable. The happier your bridal party, the happier you'll be.
10. Timing is everything. When it comes to the big day, minimize the stress by giving yourself—and your bridal party—adequate prep time. Here's a guideline: The makeup artist should spend no more than 1½ hours on you, half of that (45 minutes) on the Mother of the Bride, and half of that (approximately 20 minutes) on each bridesmaid. Have your bridesmaids arrive complexion-ready—the makeup artist will add the eye, cheek, and lip color.
Wishing you all the best!
Photos: JUCO Photo | Words: Alix Light Perez