Getting Red Carpet Ready with Gina
The Golden Globes may be best known for its star-studded, boozy after party, but for actress Gina Rodriguez, star of the CW's Jane the Virgin who won in the category of best actress in a television comedy or musical in 2015 and has been nominated every year since, the fun starts with the pre-party.
While she is prepping for the red carpet, her apartment near Venice Beach is packed with friends and family. Her mother brings roast turkey and Posole to feed a crowd. Her sisters and brother, and a supportive posse of friends are here. "This year, I just wanted to keep it simple," says Rodriguez, whose sister, Rebecca Rodriguez, a pediatrician, is her date. "I'm not going to let anything take away my joy. I don't want to worry about anything. I don't have time for that.
The Glam Squad
One aspect of the event that never concerns her is the makeup. Gina's approach to beauty is as direct and as no nonsense as her personality. Makeup artist Carissa Ferreri, who she has been collaborating with for three years, has earned her implicit trust. "Carissa doesn't tell me how to act," says Gina with a laugh. "So I don't tell her how to do my makeup."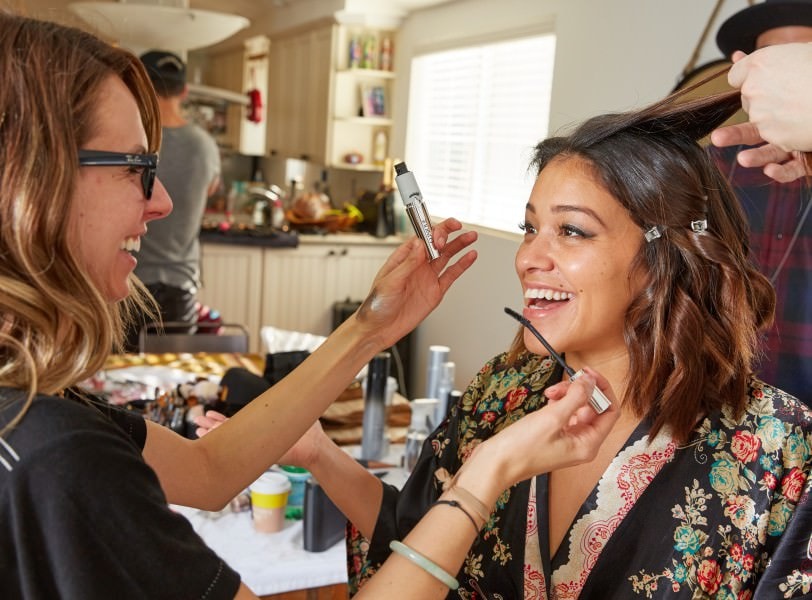 "Go bigger!" jokes Carissa, in her best impression of a director. "Don't hold back."
"Makeup is just not one of my skills," says Gina. "I never wear makeup in real life. I've been using Clinique skin care since I was a teenager, and my mom put eye cream in my stocking at Christmas, but that's really it."
For Gina's red carpet look, Carissa created a screen-siren look, with dramatic winged eyeliner and a "delicious nude" lip, to complement Gina's knockout dress, which is covered with elaborate crystal beading.
To Create Gina's Screen-Siren Look...
First, use a moisturizer like Moisture Surge Extended Thirst Relief, and eye cream, like Pep-Start Eye Cream, which hydrates, de-puffs and preps for makeup. "I never get a lot of sleep before big events. So to make sure that my eyes look awake and bright, I always keep Pep-Start in my hand bag to touch up and look bright," says Gina.
Next, define your brows. "If I start with the brows, it just helps me see the structure of her face better. It's the foundation of the look," says Carissa. Fill in any sparse areas with a brow powder using a short, angled brush, then tweeze any lingering strays. Try: Pretty Easy Brow Palette.
Apply a creamy beige eye shadow base like Touch Base For Eyes in Canvas Light across lids and up to the crease, using your fingers to blend. Then, sweep a bright silver powder shadow, like the lightest shade in All About Shadow Quad in Smoke and Mirrors, from the lashline up to just above the crease, then blend with a cotton swab to soften the edges. "Layering is really the secret to making a look last all night," says Carissa, who practiced the look on herself the night before.
Next, sweep a charcoal shadow with a subtle shimmer (like shade 3 in Smoke and Mirrors) on top of the silver in a "V" shape on the outer two-thirds of the eyelid, following the top lashline working outward to the temple and the wrapping it back around under the crease.
To get a glamorous Old Hollywood cat eye, use a black liquid liner, like Pretty Easy Liquid Eyelining Pen in Black, to line the upper lids, extending the line slightly past the lashline. To intensify the liner, use a short, angled eyeliner brush to apply more charcoal shadow along the upper lashline.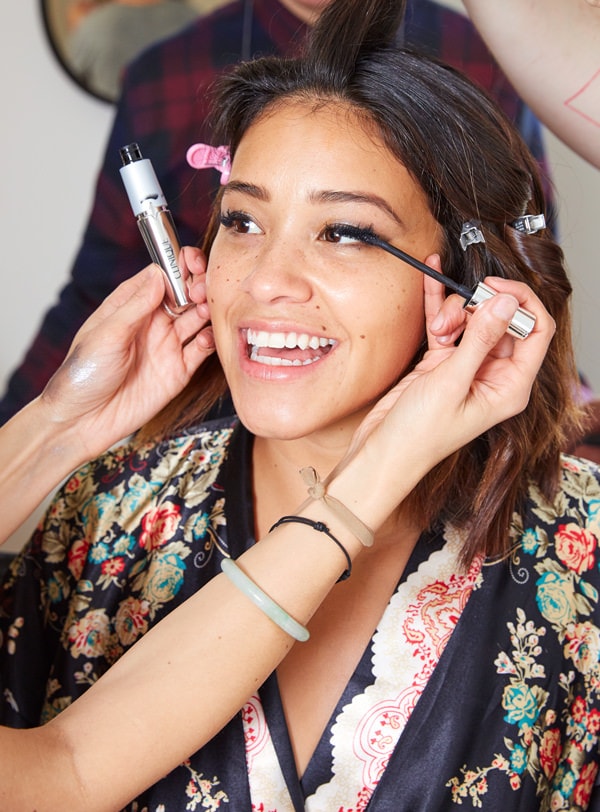 To glam up your lashes, apply two coats of mascara on both upper and lower lashes. Gina used Lash Power Flutter-to-Full Mascara, a mascara where you can customize the volume, on the highest setting. Carissa also put a few falsies on Gina.
Go for natural-looking, dewy skin, so apply foundation only where needed. "Gina's skin is so pretty, I hardly use any foundation," says Ferrari. "I like to let her freckles show through."
Define cheeks using a small fluffy blush brush to sweep a pale bronzer just under cheekbones, then dust a nude shimmer along the top and blend together seamlessly.
Finish the look with a nude lip. Gina chose Pop Matte Lip Colour + Primer in Blushing Pop, a close match to her natural lip color, then topped it with nude gloss—and don't forget to touch up throughout the evening. "To be honest, I don't even re-apply my lipstick," says Rodriguez. "I know that I should, but I never remember to do it." She shrugs. "I guess I'm having too much fun!" It's a good thing Pop Matte lasts for 8 hours thanks to its built-in primer.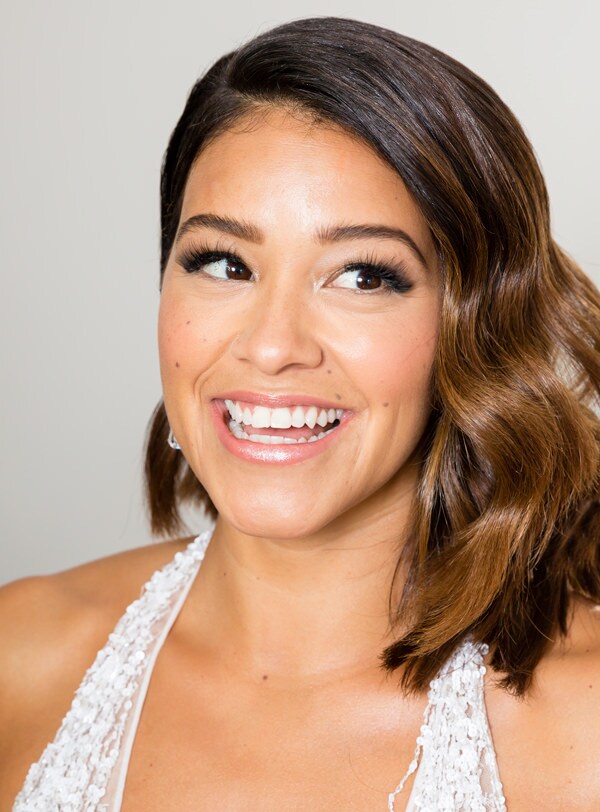 Gina's ready to hit the red carpet with her sister!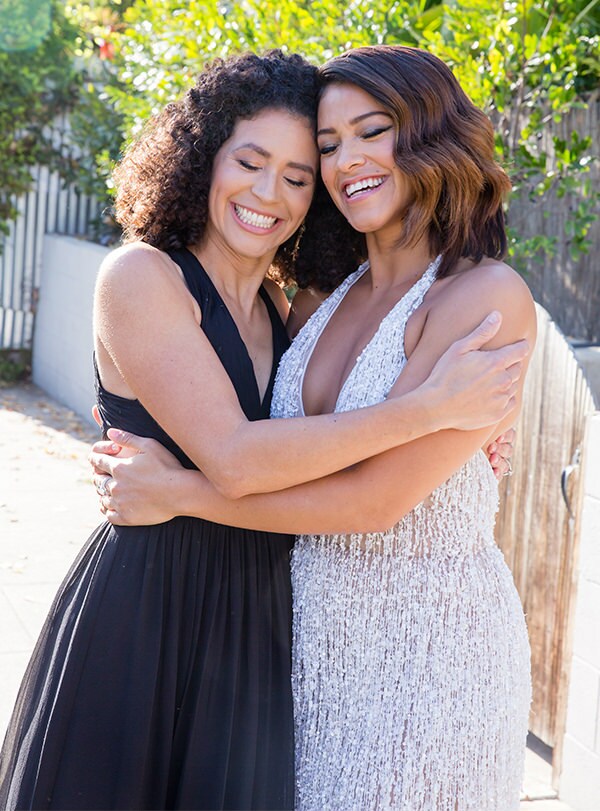 Gina's After Party Routine
For quick and easy end-of-the-night makeup removal, Gina loves Take The Day Off Cleansing Balm. "My makeup has to last from the red carpet to the amazing Golden Globes after parties—but nothing feels better than coming home and taking it all off. This balm melts all of that makeup off my face and that's how I know the night is officially over," she says.
Photos: Katrina Dickson | Words: Christine Lennon